Many ask what direction the estate agency market will take in the coming years. Since the emergence of the free advertising portals as well as subscription sites such as Zoopla and Prime location, the vast majority of prospective tenants now find their new homes online. All letting agents are effectively now advertising online, meaning all agents whether this be in sales or lettings are now very much trading on a level playing field.
Whereas the more established agents had the luxury of being able to afford a high street presence when they set up, placing adverts in the local paper and literally waiting for business to come through the door, online letting agents can now easily set up from home or a managed office space at low cost and offer a lettings service just as beneficial as a high street agent, accept the online agent gets to save thousands of pounds a month in office overheads.
As a result of such savings, this has opened up the door considerably to those who had previously been restricted by the lack of cash needed to start up, but most importantly those who have the necessary skills, knowledge and enthusiasm to make it work.
Many High Street Agents are worried as not only has this resulted in more competition, an online letting agent is in a much stronger position to offer the same if not better quality service for a lower price.
Having said that this industry has always been and always will be a people person business where relationships are built with landlords and tenants so that should a good relationship with your client be maintained, paying the extra few pounds is not likely going to be a deal breaker and lose you business.
As a result of this online shift though, and together with advances in letting agency software, it is probable we will see more agents trading in one area where agents who may currently be managing thousands of properties, will lose their market share to those who are starting out from home and where managing over 200 properties is more than easily achievable.
This may explain why a lot of the more established agents are determined to have this market regulated as soon as possible to deter those wishing to set up. After all, tenants are more at risk from rogue do it yourself landlords than letting agents. In the meantime there has never been a better time to start a letting agency business in a continually growing market. For more information on how Letting Vision can help you start your own letting agency from scratch in the same way as its founders Propertynest did, please see our letting agent start up business package
Start your journey to financial independence today.
Learn more about the limitless opportunities of running your own estate agency with Agent Vision.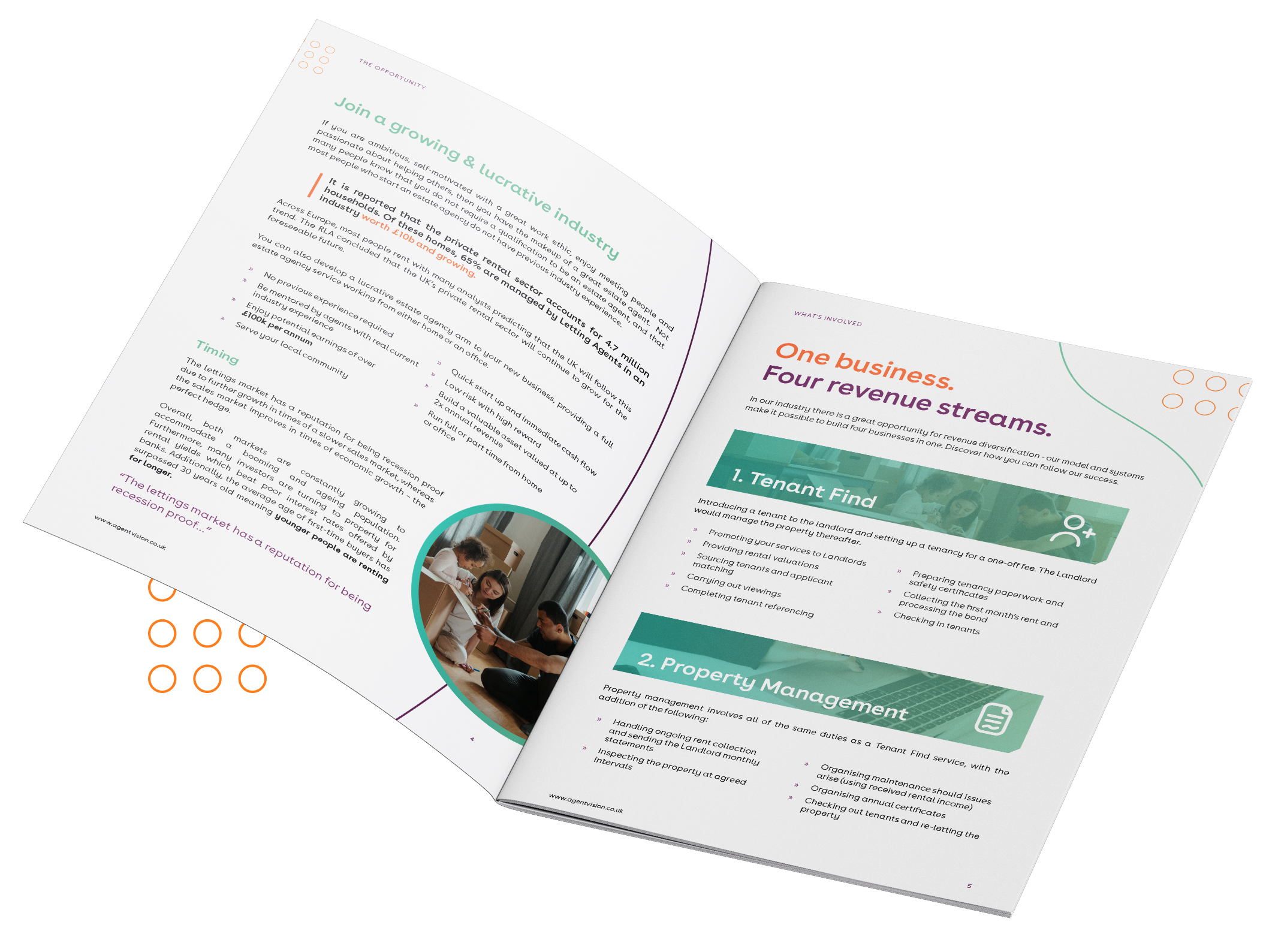 Real people on hand to help you get started.
That's right, our dedicated support team is just a phone call away. With our industry leading packages and our helpful assistance you'll be listing your first property in no time.