The majority of letting agents who currently operate in the UK are still working with basic word document templates when documenting the condition and cleanliness of items, fixtures and fittings in preparation for the start of a new tenancy. In many cases, traditional agents don't even take photographic evidence. Furthermore, many agents when in front of a Landlord pitching their service do not discuss or demonstrate the importance of an inventory, which is arguably one of the most important factors when managing properties on behalf of Landlords. All tenancy deposits are required by law to be registered with a government approved deposit scheme for safe keeping for the duration of a private assured short-hold tenancy. If the Landlords property is genuinely damaged by the tenant, which results in them wishing to make a claim against a tenants bond, agents are required to provide the check in inventory report they created and had signed by the tenant before the start of the tenancy. The tenants are within their rights to dispute against any claim made against their bond by requesting that an independent adjudicator working for the deposit scheme where the bond is registered to make an assessment based on the evidence provided by the agent at the beginning of the tenancy. Should clear evidence not be provided or is left too open to interpretation, a Landlords claim may be thrown out, resulting in financial loss to the Landlord and potentially a loss of business for the agent.
Creating an impressive comprehensive inventory is something which will not only save potential arguments between all parties at the end of a tenancy, but it also serves as a fantastic unique selling point to use against your local competition who are not taking advantage of new technology to improve the efficiency and quality of their reports.
Agent Vision has teamed up on an exclusive basis with inventoryhive.co.uk, The Uk's market leading inventory software provider who have created an exceptional and modern inventory app which can be used to create online digital inventory reports by guiding you through each room and selecting pre-populated descriptions of common individual room items which automatically generate and guides agents through the process of creating the most professional and modern looking inventory reports with images taken embedded and positioned correctly for each room. This offers Landlords peace of mind that the condition of their property is being accurately evidenced. The key advantage of using the app is that reports, which can be up to 70 pages in length when images are included, can be signed receipt of by the tenant online, saving significantly on printing and paper costs. Inventory reports can also be downloaded as a completed PDF which can be stored in the Landlords property file.
Because we currently operate our own agency, Propertynest, we understand the importance of using the most up to date and modern inventory systems available in the UK. Not only are the reports easy to create, but it will save your agency money and time to focus more time on building your business at the same time as helping you win more Landlord instructions.
Start your journey to financial independence today.
Learn more about the limitless opportunities of running your own estate agency with Agent Vision.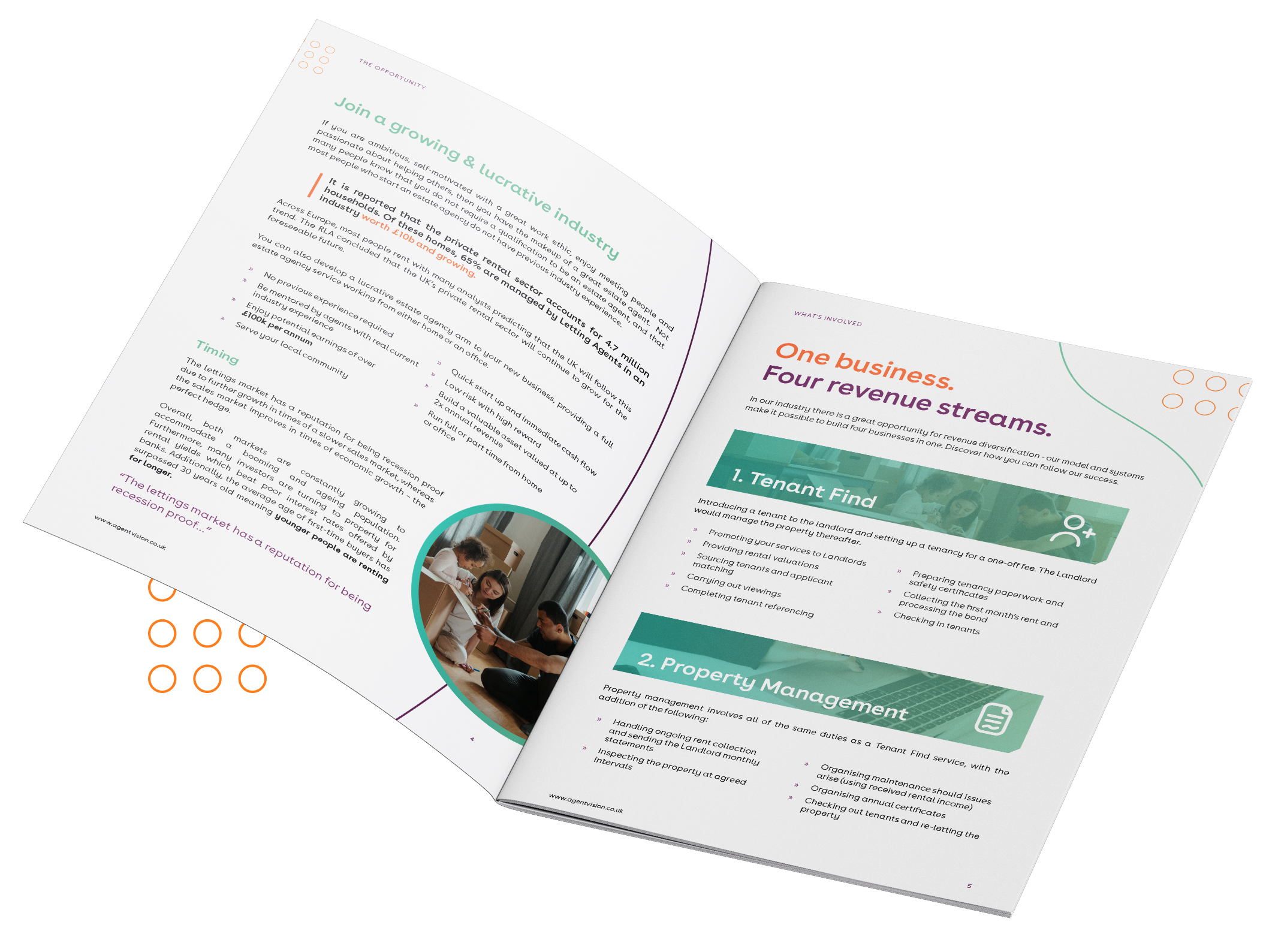 Real people on hand to help you get started.
That's right, our dedicated support team is just a phone call away. With our industry leading packages and our helpful assistance you'll be listing your first property in no time.